Yoga Teacher Training Rishikesh
Ashtanga,  Hatha, Vinyasa Flow & Mixed Styles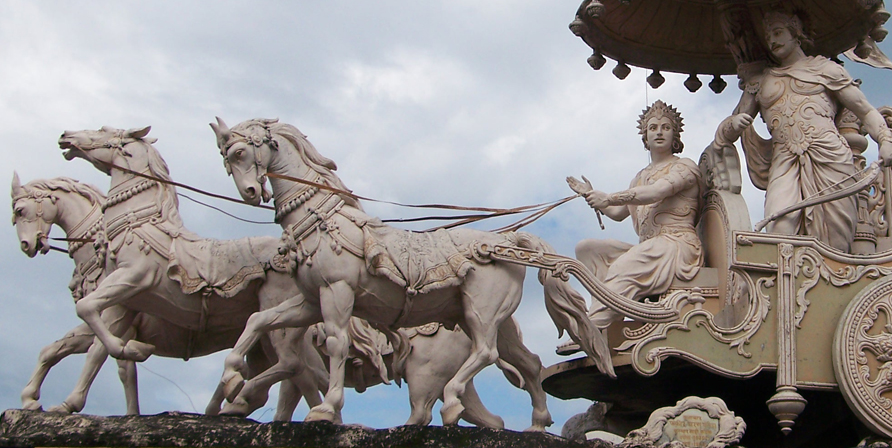 Every year Tribe offers a Level 1, 200 hour Yoga Teacher Training Course in Rishikesh attracting international students who would like to study yoga whilst enjoying the spiritual ambience of one of India's most holy towns.
Rishikesh has a very special energy. In the market place & temples there is always a beautiful peace and serenity that has a positive and balancing effect on the soul.
A special attraction and powerful presence in this area is the holy river Ganges, revered as having healing qualities. Taking a plunge in the fresh Himalayan waters definitely feels very rejuvenating, cleansing and nourishing for the soul. The banks of the Ganges are lined with ashrams and Temples receiving a constant flow of pilgrims and spiritual seekers.
This mecca for yoga aspirants and spiritual seekers makes it easy for students and teachers to be focused and grounded. There are many wonderful classes, spiritual leaders, teachers & courses dedicated to self-development for you to participate in before and after your training.
Tribe has a deep appreciation of Rishikesh as an ideal location for our teacher trainings. It is a vegetarian and alcohol free town, which supports a peaceful and innocent atmosphere. We encourage students who would like to explore the benefits of living and breathing in a spiritual community to join us in Rishikesh.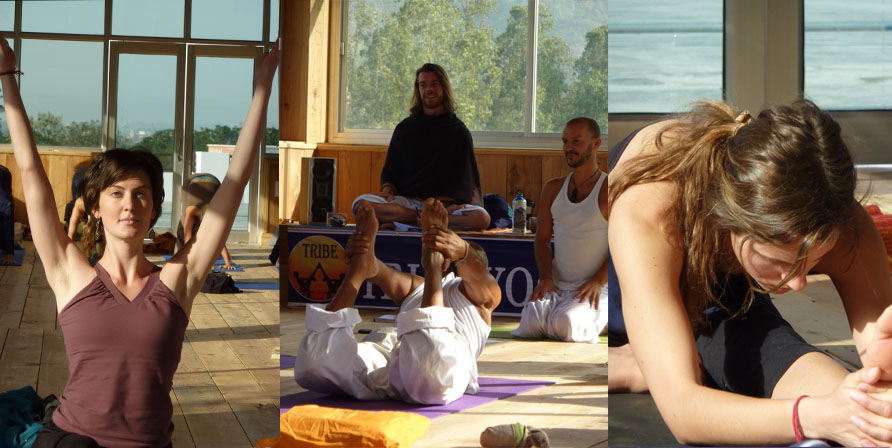 Level 1, 200 hour Yoga Teacher Training in Rishikesh
Ashtanga,  Hatha, Vinyasa Flow & Mixed Styles
Info on this page gives the logistics about training in Rishikesh. Please also read the Tribe YTTC General Info Page
1. Schedule
06.00 – 10.00 Asana, pranayama, kriya, meditation
10.00 – 10.30 Breakfast
10.30 – 13.30 Morning lecture
15-30 – 18.30 Teaching skills and practice
18.30 – 19.15 Chanting
19.15 – 19.30 Dinner
20.00 – 21.00 Group study, meditation or chanting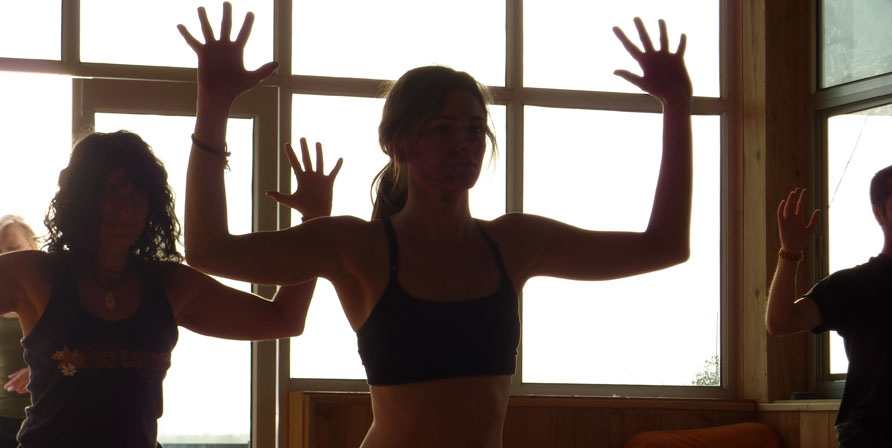 2. Duration
Check-in —–  & Check-out  ——
3 weeks
This 3 week level 1 training is made possible by the schedule as detailed above. The content and quality of the training is not effected by the shorter training period and you can expect to have reached a level of competence and efficiency in teaching that will allow you to confidently start teaching on completion.
During the 3 week training period there will be 2 full days off.

Top of Page
3. Cost
Same Training – Different Worldwide Locations – Different cost 
The price of the training varies according to the duration, student number & Accommodation costs.If you prefer more luxury accommodation then please consider other locations.
Bali: 3495, India: 1795+, Austria : 2795+, Thailand 2695+,
1795 Euros includes:
Tuition,
Study Materials,
Yoga Alliance Certificate,
Student support,
Single with attached bathroom,
Scheduled meals
4. Teachers
Scarlett  is the training facilitator and senior teacher.
Gaia are Zuzana are primary teachers
5. Maximum number of Students

Students number is limited to 16 for the Rishikesh training
Top of Page
6. Location
Rishikesh is approx 230 kilometers North-east of Delhi in the state of Uttarakhand

7. Venue & Accommodation
The venue is a 'yoga hotel' located in a quiet residential area in Swargashram, Ramjhula, Rishikesh. Its just a 10 minute walk from the sacred and holy river Ganges and the main bazar of Ram Jhula
The spacious and well-equipped yoga shala is located on the top floor with great views of the surrounding area.
Rooms are simple with attached bathroom, hot showers and private balcony.
Room service and free Internet are available.
CHECK IN ——-
CHECK OUT ——-
The closing ceremony is on the 23rd April and you will be free to leave after 1pm.
If you wish to remain in the venue for an extra night at the end of the training that can be arranged via reception during your stay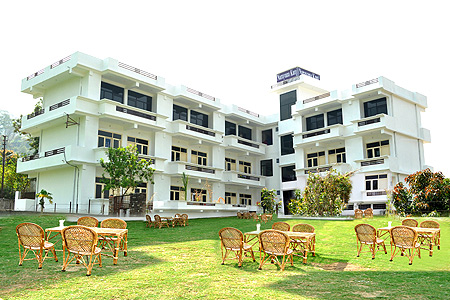 8. Meals
As much as possible we supervise the kitchen to supply us with meals that follow conscious eating and yogic principles.
Breakfast: smoothie, oats and fruits
Lunch: Indian cuisine
Dinner: Salad & soup
Days Off
There are no scheduled meals on the days off. Instead the venue has a restaurant that is open all day and room service. Students generally prefer to eat out at many of the restaurants in Ram Jhula or Laxman Jula. A simple thali costs from 70 rupees. On average budget approx. 150-300 rupees per meal.
Purification Day
Sunday is purification day. Expect variations in the meals according to the teachings of the week. It could be a day of fruit only meals or brown rice. Those who do not wish to participate for medical or other reasons can organise their own meals separately.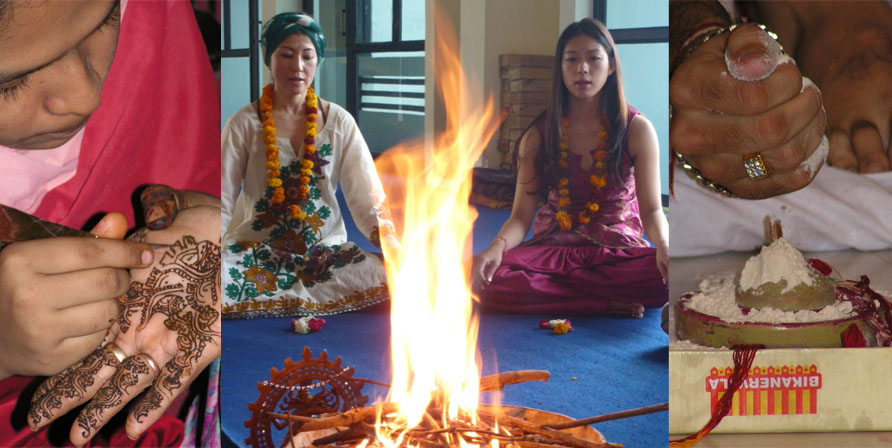 9. Travel Info
Rishikesh is a tranquil place in the northern state of Uttarakhand in India. It is known as the 'Yoga Capital of the World', a name it lives up to with its many yoga schools, ashrams and constant flow of yoga and spiritual teachers passing through.
It's about 250 kilometres by road North from Delhi, which take about 6 hours by road or 1 hour by domestic flight.
Nestled in the Himalayas with the mighty and holy river Ganges running straight through its centre this is truly a magical destination. Surrounded by mountains and vast nature it's a great place to relax and recharge.
Visa
Most Foreign Nationals travelling to India require a visa. Tourist visas are usually for 6 months. Please contact the Indian Embassy in your country for more details.
Please note that the visa starts from the day of issue
Top of Page
10. Getting There
The closest International Airport is Delhi
From Delhi you can take a bus, train, Taxi or domestic flight to Rishikesh.
Domestic Flight: Fly from Delhi to Dheradun Airport and then take a 30 minutes taxi to the venue.
Top of Page
11. Student Testimonial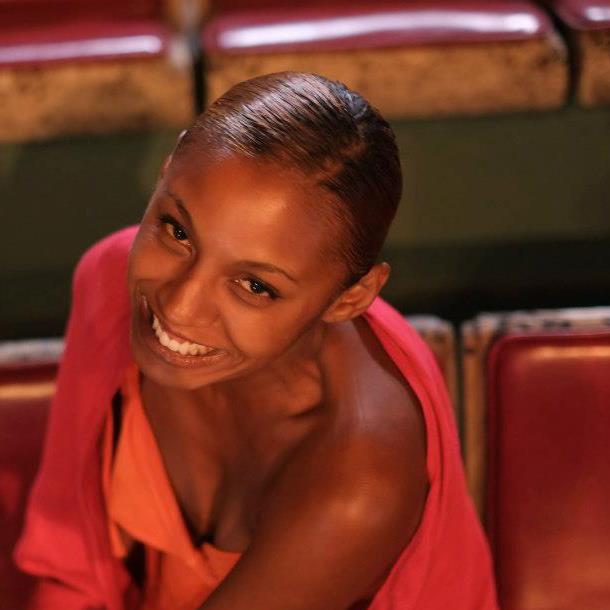 "Based on my experience, I highly regard Tribe International Yoga Training School, as an outstanding Yoga teacher training institution. Tribe possesses a professional teaching faculty, who are motivated, encouraging, well experienced, in addition to being masterfully talented in their teaching capabilities.
Not only has completing the training deepened my dedication and motivation towards my own personal practice, but it has also led to enlightening self-discovery and beautiful awakening.
The invaluable knowledge that I've gained through my experience with Tribe has brought ample inspiration and confidence to my personal teaching ability, post training. I would highly recommend Tribe International Yoga Training School to anyone, who is about to endeavour on a Yoga TTC."
-Tamara, South Africa
12. Additional Training Info
For complete details on Tribe Level 1, 200 hour yoga teacher training courses please click the link below.
13. How to Book
Click on 'Book Now' button right side of this page.
Pay 150 euros deposit
Complete the application form
If accepted the deposit becomes non refundable but can be transferred to an alternative training.
If not accepted the deposit will be immediately refunded.