Level 2, 300 hour Yoga Teacher Training Goa, India
Ashtanga,  Vinyasa Flow & Traditional Hatha Yoga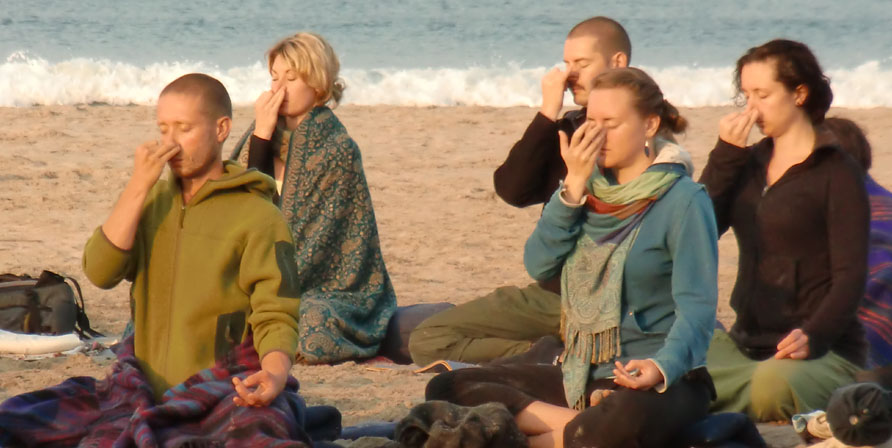 Our Level 2, 300 hour yoga teacher training in Goa attract students from all over the world to join us for a special journey of magical spiritual studies and practice.
The teachers and students on our trainings love Goa for its great weather, lovely beaches, tasty foods and amazing mix of people.
North Goa is famous for the growing number of activities, workshops and gatherings, including music lessons, drumming courses, massage courses, meditation, open mike sessions, kite surfing, and the list goes on!! There are also a lot of different styles of yoga being offered in the area so there is ample opportunity before and after the training to enjoy a full timetable of fun activities and tourist adventures.
No trainings in 2017 – Next training dates 2018+
Ashtanga,  Vinyasa Flow & Traditional Hatha
Level 2, 300 hour Yoga Teacher Training
1. Schedule
Sunday to Friday
06.00 : Morning Sadhana
10.00 : Breakfast
10.15 : Adjustment Workshops, Anatomy, Philosophy etc
13.00 : Lunch
15.45 : Teaching skills
18.30 : Group sharing, lectures etc
19.15 : Chanting the sutras
19.30 : Dinner
20.00 : Movie, meditation, yoga nidra (Mondays, Wednesdays, Fridays)
Saturdays
06-15 : Mysore Practice
09.00 : Lecture & Sharing
10.00 : Breakfast
Top of Page
2. Duration
4 weeks
Top of Page
3. Cost
Same Training – Different Worldwide Locations – Different cost 
The price of the training varies according to the duration, student number & Accommodation costs.
If you prefer more luxury accommodation then please consider training in  Austria : 2595 Euros,
2195 Euros includes:
• Tuition fee
• All Study Materials
• Yoga Alliance Certificate
• Complimentary Massage
• Single with attached bathroom,
• All Scheduled meals
• Free filtered water and Internet access.
Non residential places available for 1850 Euros.

Tribe level 2 Graduates receive a 200 euros family discount
Top of Page
4. Teachers
Tribes team of teachers for the Level 2 Goa Training will be:
Scarlett as training facilitator and senior teacher
Rory as senior teacher, teaching asana, subtle bodies, philosophy and more
Liza as primary teacher, teaching anatomy, asana, pranayama and chanting
James  as primary teacher,teaching asana, chanting, subtle bodies


5. Maximum number of Students

20
Top of Page
6. Location
7. Venue & Accommodation
The Blue Pyramid is a relatively new venue. It's located in the North of Goa midway between the seaside villages of Arambol and Mandrem. It's just a short walk from a great beach with super swimming conditions.
We love this venue for its amazingly spacious yoga shala, simple accommodation, great food, laundry service, free internet and free filtered water.
Tribe yoga teacher training venue in goa
All students can enjoy single rooms with attached bathroom (shower, sink and flush toilet). The simple and basic rooms are suitable to our needs as yogis, no frills but a great opportunity to live closer to nature. If you prefer more luxury accommodation than please consider training in other locations that cater more to such needs.
Inside all the rooms there are fans, electric power points and mosquito nets.
Check in:  Sunday 31st January, Check out: Saturday 27th February
(If you wish to leave immediately after the closing ceremony you can check out on Friday 26th January after 1pm)
8. Meals
The menu for Level 2 students is aimed at encouraging purifications and detox. Within the training program we have included 2 fasts and the Oshawa cleanse. You will receive information, guidance and inspiration from the teachers during the 1st week of the training detailing what the fasting and Oshawa and why it can benefit you. You do not need to decide if you will participate in the fasting or Oshawa cleanse until you have received all the information. Those who do not wish to participate for medical or other reasons can order meals at their own cost in the restaurant.
Breakfast : Green smoothie with a side bowl of fruit
Lunch : Veggies, rice, pulses etc.
Dinner : Soup and salad
Fasting Days: Fruit salad or rice all day
Oshawa No 7: Meals of whole grains
Days Off: No meals served in the venue. Students usually venture out into Goa for their days off and eat in restaurants in the seaside villages or directly on the beach

Top of Page
9. Travel info
Goa is located on the west coast of India about 500 kilometres South of Mumbai. It has a great tropical climate and beautiful nature. The training is held in the North of Goa approx. 40 kilometres from the Goa capital Panjim in the Arambol / Mandrem Area.
The coastline of Goa has great beaches and the Arabian Sea offers good swimming conditions and the possibility to se dolphins
Visa
You will need a tourist visa to enter India. You should contact the Indian Embassy in your country to get current information.
Top of Page
10. Getting there
'Dabolim' is the International and Domestic airport in Goa.
When you arrive in Dabolim Airport it's easy to hire a government taxi to the venue in North Goa. The taxi takes approx. 90 minutes and will cost approx. 1500 rupees.
If you prefer to pre-book a taxi the venue offer an airport collection for 1700 rupees.
You can also fly to other International Indian airports and the take a domestic flight, train or bus to Goa depending on your budget.
For international flights search via www.kayak.com
For domestic flights search via www.makemytrip.com.
Top of Page
11. Student Testimonial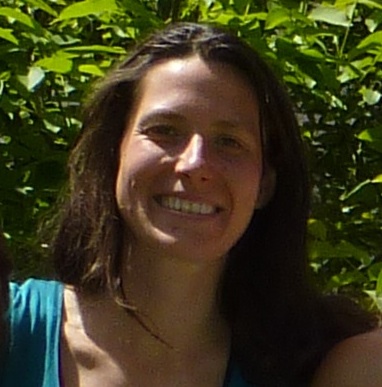 ´I can highly recommend a yoga training with tribe. It is only now, about a year after the level 2 training finished that I start to grasp the magnificent change that happened in my life throughout and after the training.
I was joining both level1 and level 2 not with the intention to teach, but simply to go deeper into my practice and understanding of yoga. And, i have to say, Scarlett and the entire team of tribe have really had a huge contribution in changing my life to a much higher state of being and understanding.
The teachers are each very unique and authentic in their teachings, and they work together in perfect harmony to bring their students to go deeper into their practice. What I found especially amazing is that each of the teachers teaches what they are best at. So for asana, pranayama and meditation you get the best of the best:-)
I would repeat to join the training with tribe, just for the richness of what I have learned and integrated in my life and the high vibrations that were present with us  throughout the entire training.
And I did ask myself, why did I wait so many years to do the Tribe teacher training? It is such an amazing and truly transforming experience that I can recommend it to anybody interested in spirituality and how to integrate yoga more fully into your life.
-Sarah Shinke, Germany
"The whole course was a very beautiful experience and no words can justify it enough! Over the years I´ve have lacked self-belief in myself as a teacher, to the point where everything felt out of place. It was exactly during this course that I felt like I "arrived home". I´ve learned a lot, not just through the teachings related to the course, but also from every single person inspiring me and showing me my own reflection. I felt alive and super-sensitive to the things I haven´t been previously aware of. Thanks to this, I was able to work on myself not just as a yoga teacher but more so as a human being. Through the beautiful presence of the teachers, I allowed myself to soften into the knowing, that all truly is well!
Zuzanna, Slovak
12. Additional Training Info
For complete details on what study and practice is like on a Tribe Level 2 training please click the link below.
13. How to Book
Click on 'Book Now' button right side of this page.
Pay 150 euros deposit
Complete the application form
If accepted the deposit becomes non refundable but can be transferred to an alternative training.
If not accepted the deposit will be immediately refunded.