()
Level 2, 300 Hour Yoga Teacher Training
 Ashtanga,  Vinyasa Flow & Traditional Hatha Yoga
19th August – 14th September 2018

Attending a Level 2, 300-hour yoga teacher training in Austria is truly a welcome escape from the outside world, without the normal distractions and daily demands it's really easy to relax, unwind and settle into focused yoga studies and practice.
For teachers and students studying in the Austrian Mountains is a special treat. The area is so peaceful, so beautiful and so rich with nature that you can't help but fall in love with the place.
A summer destination with lots of outdoor pursuits that you can enjoy on your days off including swimming in the lake, hiking, rock climbing, horse riding, boating on the lake and special trips to scenic areas.
Ashtanga,  Vinyasa Flow & Traditional Hatha Yoga
Level 2, 300 hour Yoga Teacher Training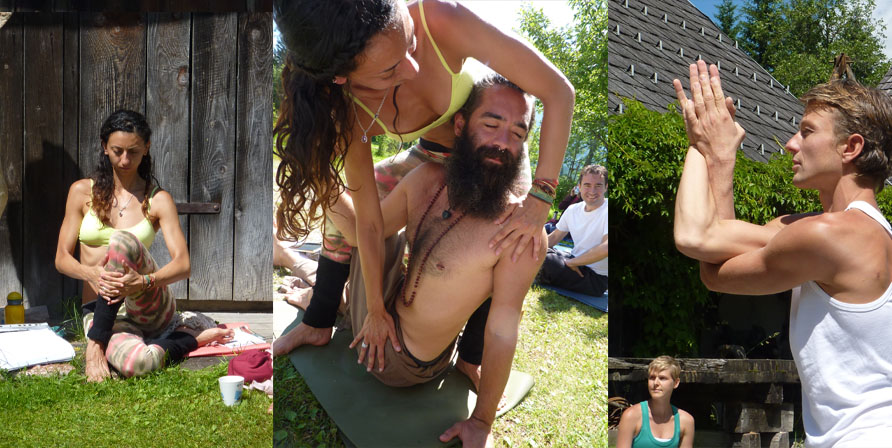 1. Duration

19th August – 14th September 2018
26 day's in training
Top of Page
2. Cost
2795 Euros includes:
• Tuition fees
• All Study Materials
• Yoga Alliance Certificate
• Shared Accommodation
• All meals
3495 Euros Single Deluxe Main house
3295 Euros Single attached bathroom Main House (Booked)
3095 Euros, Single 2nd student house
2295 Euros, Non-Resident.
3. Teachers
Scarlett
Martina
Gaia
Chrisitan
Safah
4. Maximum number of Students

We restrict the number of students to 16 to cultivate an intimate 'family' dynamic on the training.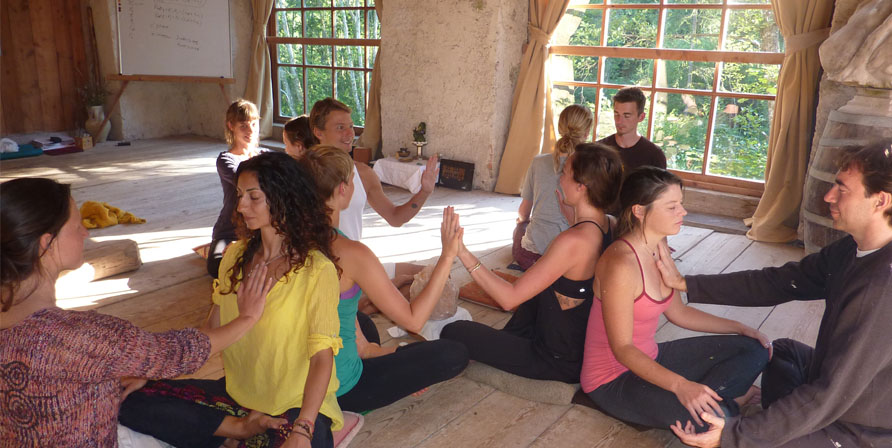 5. Venue & Accommodation
Our venue is located in the heart of the Austrian mountains in Salzkammergut-Styria which is the most picturesque and traditional area of Austria. The local area is quiet and peaceful and especially conducive to intensive yoga study and retreat. Easily reached by train from Salzburg, Linz, Graz or Vienna.
Accommodation is in the student Guesthouse which is a beautiful large alpine house. The whole house has been built of natural materials proving a healthy atmosphere to live in. There is an abundance of wood inside and out, clay walls and heated wooden and stone floors. The house is light, comfortable and spacious with antique furnishings, open fireplaces and elegant works of art. There is a reading room, large communal kitchen, large dining room and living room with open fire.
The 2nd Student Guesthouse is available for students who wish to have single accommodation.
Accommodation options:
• Sharing
• Single en-suite
• Single deluxe en-suite with walk-in closet and large balcony
• Single in 2nd student house
• Non-Resident. Local apartments and rooms approx 900 euros per month
6. Meals
Tribe level 2 yoga teacher training courses introduce and encourage detox and purification. Enjoy a menu of healthy, nutritious meals, 2 fasting days and the Oshawa cleanse. Information, guidance and inspiration about fasting and Oshawa are shared by the teachers during the 1st week. You decide after you have received all the information if you want to participate in the fasting or Oshawa cleanse.
Those who do not wish to participate for medical or other reasons can use the kitchen to organise and make their own meals.
Breakfast is always a Green Smoothie. If you feel you need to supplement this then you can have a bowl of muesli too.
Lunch is generally the main meal and includes veggies, rice, pulses etc.
Dinner is a light meal of soups and salads etc.
Fasting Days (usually Sundays): No Meals served. Teas available all day.
Oshawa No 7: Meals of whole grains.
7. Travel info
Bad Mitterndorf is situated in the heart of Austria in the area known as Styria and Salzkammergut about 90 kilometres by road from Salzburg or Linz. It's one of the most traditional areas of Austria with pretty quaint Austrian architecture and rich culture.
Located in a vast open valley Bad Mitterndorf is surrounded by mountains and is in an area rich with forests and freshwater lakes. The area is free from heavy industry and is a great place for hiking and enjoying unspoilt nature and fresh air.
Visa
Please check with the Austrian Embassy in your country to see if you need a visa. Most nationals are permitted to enter Austria for a period of 1 month or more with no visa.
Top of Page
8. Getting there
It's really easy to get to Bad Mitterndorf. First, you fly to one of four International Austrian Airports and then catch a Train to Bad Mitterndorf Heilbrun station. From the train station, it is a short walk to the venue.
International Flights: Fly to Vienna, Salzburg, Graz or Linz.
Trains to 'Bad Mitterndorf Heilbrunn' station:
* Graz, 2½ hours, 28 Euros
* Linz, 2½ hours, 25 Euros
* Salzburg, 3 hours, 30 Euros
* Vienna, 4 hours, 50 Euros
For up to date price and train times check: https://www.oebb.at/en
Top of Page
9. Excursion up mountain
Unique to the Austrian training all students have the option to venture up into the mountains on a long hike and sleep overnight in an Alpine Guesthouse.  This excursion is included in the cost of the training. If hiking is not your thing you can remain at the venue 🙂
Weather pending!
10. Student Testimonial
´I can highly recommend a yoga training with Tribe. It is only now, about a year after the level 2 training finished that I start to grasp the magnificent change that happened in my life throughout and after the training.
I was joining both level1 and level 2 not with the intention to teach, but simply to go deeper into my practice and understanding of yoga. And, I have to say, Scarlett and the entire team of the Tribe have really had a huge contribution in changing my life to a much higher state of being and understanding.
The teachers are each very unique and authentic in their teachings, and they work together in perfect harmony to bring their students to go deeper into their practice. What I found especially amazing is that each of the teachers teaches what they are best at. So for asana, pranayama and meditation you get the best of the best:-)
I would repeat to join the training with Tribe, just for the richness of what I have learned and integrated into my life and the high vibrations that were present with us throughout the entire training.
And I did ask myself, why did I wait so many years to do the Tribe teacher training? It is such an amazing and truly transforming experience that I can recommend it to anybody interested in spirituality and how to integrate yoga more fully into your life.
-Sarah Shinke, Germany
12. Additional Training Info
For complete details on the Tribe Level 2 yoga teacher training courses please click the link below.
13. How to Book
Click on 'Book Now' button right side of this page.
Pay 350 euros deposit
Complete the application form
If accepted the deposit becomes non-refundable but can be transferred to an alternative training.
If not accepted the deposit will be immediately refunded.