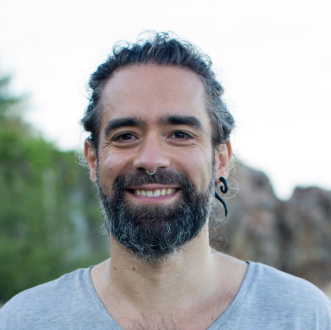 James French
Senior Teacher and Training Facilitator
Hatha, Vinyasa, Tantra, Kundalini
---
James was born in London and first discovered yoga in 2003, whilst at Drama School. However, he truly caught the bug a few years later whilst performing in a Shakespeare production which toured India. Sunrise practices overlooking the rooftops of Udaipur with an old yogi called Prakash sealed the deal.
Following a martial-arts incurred neck injury, he was told that surgery was the only option. However he resisted and experienced an amazing recovery through his Yoga practice. He soon returned to India to train and embark on his path as a Yoga Teacher.
James has studied with Max Strom, Yogrishi Vishvketu, Jason Crandell, David Swenson, Tiffany Cruickshank and Christopher Wallis. However his greatest influence is his guru, Sri Prem Baba, who he spends several months a year with. For more info, please go to his website yogijames.com
Classes involve a challenging, creative flow with focus on strength, stability and alignment to attain states of union between mind, body and spirit. James has a particular interest in Psycho-spiritual work, and the way that emotions and traumas are stored in the body and how we can release them to promote deeper well being and healing. He also incorporates the more subtle, energetic aspects of Hatha Yoga as a route to healing and inner peace.
He has taught all over the world, but loves to return to his hometown of London every summer where he teaches at some of his favourite studios including Triyoga.