NEW  – 'YogaOm' – Every Day Yogic Living for YOU – Coming SOON!!!
If you have been looking for a way to take charge of your spiritual growth and completely manage your own health and wellbeing… this is it!
Our YogaOm app is designed to support you to cultivate a more yogic mindset and spiritual lifestyle. It's full of healing and transformational practices that everyone can do
As you enter the YogaOm world your first journey is a 4-week Yogic Living Experience online retreat. Commit to 1 hr per day and enjoy lectures and practices that will positively transform the way you live and breathe, or if you prefer you can go at your own pace.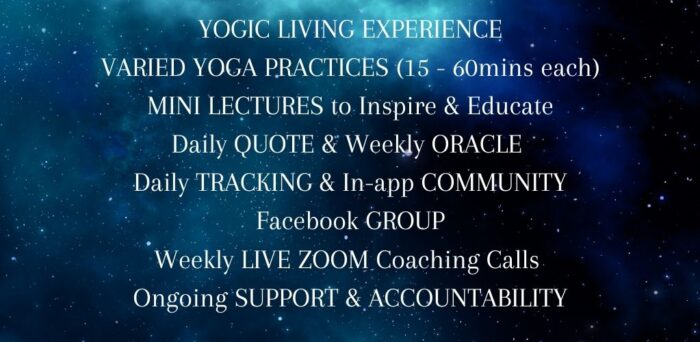 👉 What's in the 4-week Yogic Living Experience?
✅ #1 Spiritual discourses, Daily Rituals, Restorative Practices. 60 min themed asana sessions,  Yogic Breathing Practices, Meditations, etc etc etc. All You Need In Teachings And Practices To Stay Spiritually Motivated And Inspired 24/7
✅ #2 Lectures & Classes from a large team of highly experienced super dedicated teachers
✅ #3 Accountability Community Group to keep you on track
✅ #4 YogaOm App which you can access on and offline & on your phone or via the web
✅ #5 Weekly Group Coaching Calls to stay connected
✅ #6 The amazing Ebook: Asana – The ultimate spiritual practitioners' handbook to support you to transform the way you practice asana forever.
👉 When does it start?
✅  The  yogic living experience kicks off on the 12th of September  Contact us to sign up
👉 How much does it cost?
✅  The 'Kick-Off'  is absolutely FREE. Experience the first week of the Yogic Living Experience at no cost.
👉 Who is it for?
✅ The program is specifically designed to put an end to feeling that you are not 'spiritual enough', or that feeling that you want to do more for your mental and physical health but don't know where to start.  It's designed for people who want to establish and maintain their spiritual vibe when it comes to yoga practice and a yogic lifestyle.
👉 What's included?
✅ You'll get step-by-step support, guidance, and mentorship throughout the 4 weeks that will revolutionize your relationship to yoga practice and your everyday living. The program includes practices on and off the mat that can easily be implemented into any schedule, it doesn't matter how busy you think you are. You will be guided day by day to nourish and embody an ever-deepening appreciation, sensitivity, and awareness of yourself and of your life that will be the building blocks of a more spiritual you and more free-flowing spiritually rich lifestyle.
👉How much time do I need?
✅ The timings are super flexible so no matter what your schedule is you can follow the challenge without stress. The whole point of the program is to go step by step and gradually build a yogic lifestyle that is second nature and sustainable. The minimum commitment is 1 hr per day. If that doesn't work for you you can complete the content in any time frame you like
👉What equipment do I need?
✅ A notebook to use for spiritual journaling and nothing more
👉I'm not sure if a remote-coaching plan is right for me
✅ We are confident that you will be able to translate the teachings into your life in a seamless way.  We are here for you 100% to ensure you stay on track and springboard into a more spiritualized lifestyle.
The YOGIC LIVING EXPERIENCE starts on the 12th of September 
Send us a message to sign up for free today