Aug 13, 2015
Why Tribe now offers a 3 weeks, 200 hours yoga teacher training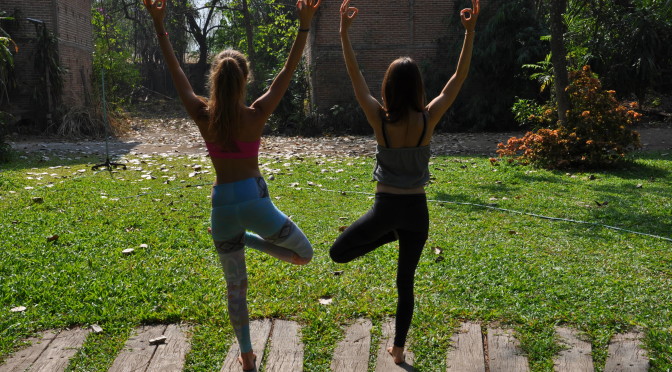 Tribe has been offering 4 weeks 200 hours Yoga Alliance yoga teacher training courses in Asia and Europe for over 7 years and this year in October we have scheduled a 3 weeks, 200-hour yoga teacher training in Thailand.  To many of you, 3 weeks may not sound like enough time to complete a yoga teacher training, read on to understand more…
Since the first Tribe yoga teacher training many years and over 1000 students later the course has been organically evolving and growing in strength & efficiency expressed via a well-executed training with great teachers, a comprehensive manual, and a great course structure.
Rather than just focusing on asana practice and delivering teaching skills the Tribe training gives a foundation to practice and also addresses ways to enhance once daily living through a variety of yogic disciplines and spiritual teachings that are of value to every individual. The training is an attractive choice for those who wish to teach and also those who wish to only practice from a more personal level of self-exploration, development, and growth.
'A once in a lifetime experience', 'the best thing I have ever done', 'it was much more than I expected' are phrases we hear often from students who have completed the training.
For about 5 years, as well as training groups made up of students from all over the world Tribe has also trained private groups of Japanese students facilitated by a Japanese translator. Because of the short holiday period, workers get in Japan many Japanese students had no choice but to leave their jobs in order to participate in the training. Initially, the Tribe trainings were 4 weeks so in order to open the training up to more students Tribe successfully condensed the training to 3 weeks.  The timings for the daily schedule were adjusted and days off were reduced but other than that the structure and syllabus remained unchanged and continued to meet the yoga alliance requirements and standards.
We were conscious that Japanese students have a positive Manipura temperament, they are extremely studious and always gave 100 %. In fact, they often took it upon themselves to do more than what was required of them…. It wasn't unusual to go to the yoga shala in the late evening and find students practicing their teaching skills on each other.
We debated about whether the training could be as successful with international students (mostly westerners), who often don't have the same commitment and self-sacrifice that the Japanese students have. It's not unusual for western students to be in socializing mode, to be easily distracted or to find it challenging to fully commit and focus when in training.
However, in March 2015 the 3 weeks version of the Tribe Yoga Alliance 200 hour yoga teacher training was presented in Rishikesh to a small group of international students.  We found that many of those who signed up choose that specific course because of the shorter study time. Some were mothers who didn't want to be away from their children for too long or others had work commitments that didn't allow for more than 3 weeks of absence.  At the end of the 3 weeks, all of the trainees graduated in good form.
It should be noted here that Tribe does have a basic standard and level of achievement which students must pass to graduate – not everybody reaches that criteria at the end of the training. In such instance further studies and a bit more practice is required before the certificate to teach can be issued.
It's not unusual to hear 'how can someone become a teacher in 4 weeks? Let alone for 3 weeks!'  Those people are missing the point!  You can find trainings out there of an even lesser time frame that still has some merit. Its good to remember that 'It's a 'training' and if it's an expert training then it will bring forth expert results. Very often an intensive yoga teacher training period can support individuals to go out immediately into the world as confident teachers with something of depth to share – arguably those are the individuals who have been practicing for many years and did the training to find their teaching voice and solidify there understanding.  Other individuals spend time after the training refining their skills by teaching friends and family before feeling ready to teach the public. And not forgetting those who go back to their lives enriched and transformed by the training experience, thereafter practicing and living yoga – not wanting or feeling to teach it!
The 3 weeks yoga teacher training course in Thailand this October will be lead by Tribe Senior teacher and Training Facilitator Rory Trollen. The private venue near to Chiang Mai located away from distractions is ideal for the level of focus and commitment that the super-intensive training requires.
If you are able to take 4 weeks out for yoga study then there is no question that you should do so. The longer you can stay in a yoga environment and be exposed to the practice, the teachings and experienced teachers the better. If you have time pressures then take advantage of the 3 weeks training and make plans to be in Thailand this October. We also have a 3 weeks training scheduled in Goa, India in January. A yoga teacher training is not a yoga holiday, rather it's a time to knuckle down and use every moment of the day for your personal development and spiritual evolution, so keep that in mind. If you do choose a 3 weeks training you need to prepare yourself to arrive focused and committed.
Thinking of joining the 3 weeks of yoga training in Thailand? Check out more info here Thailand yoga teacher training October 24th – November 14th 2015