Sep 29, 2017
'Teaching My First Retreat' by Tribe Graduate Jenny Thompson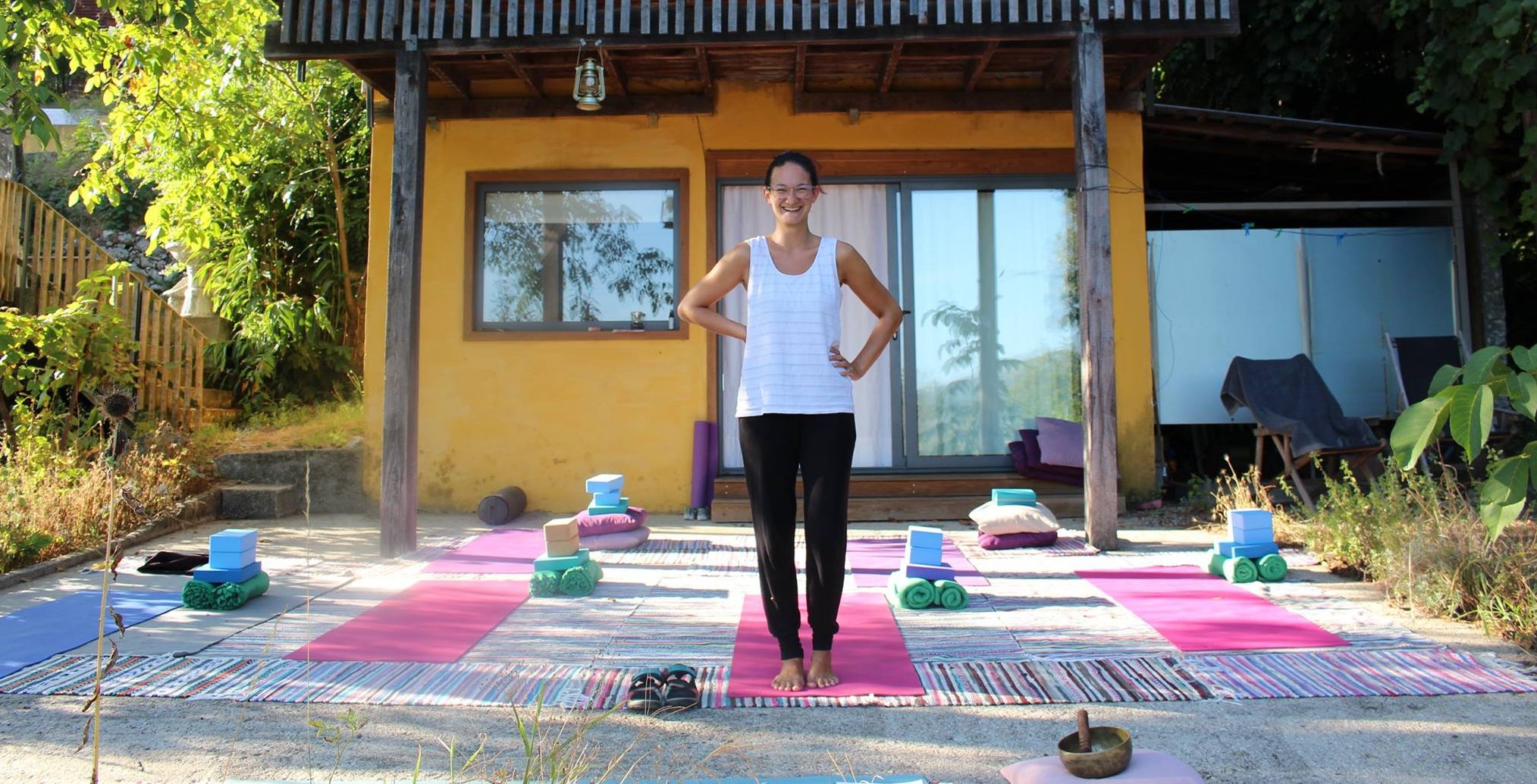 Have you wondered what it is like to offer your first retreat after you have graduated from a training?
Do you think you are not ready to offer a retreat yet?
Have you considered that the teachers that run those amazing retreats had to start somewhere?
read on for Jennys story…….
When are you going to be ready to run a retreat? Perhaps you know you're ready or you've been organizing one for a while. Or perhaps, as happened to me, you said YES and before you know it you're about to run your first retreat. I hope that this can help others to run retreats and trust in themselves.
After completing my 200-hour yoga teacher training with Tribe, I decided to remain at my old job (College Teacher), and give myself a goal of teaching one yoga lesson a week, and doing a workshop a month. I've kept this up (with the expectation of a few workshops) and experienced the pure pleasure and simultaneous anxiety that all this had to offer.
For my 30th birthday, I stayed at an amazing lodge in Portugal (Ponte Da Barca) and immediately got on well with the owners Joelle and Dirk. Joelle was particularly interested in the yoga, and by the time I was leaving, she asked if I wanted to run a retreat there at the end of the Summer! YES, I exclaimed, this would be wonderful. It was, in the end, an experience I am unbelievably grateful for, but it wasn't without its challenges.
To begin with, we had about 6 weeks to rally a group of people to join us. We decided to keep the costs low as it was last minute, and the experience for us was also valuable. Joelle asked me to decide on costing and so I broke down the cost as follows. The retreat which was 4 days and 4 nights would be £380 for a private room and £280 to share a room. This meant £50/25 per night for accommodation, £30 a day for food, and £15 a day for yoga. This allowed me to cover my flights, and buy a few more bricks.
Initially, we agreed to wait until 8 people committed until we went ahead until we soon realized this was far too ambitious and we decided on going ahead if there were 4! We arrived 3 weeks before the retreat with only 3 signed up and decided to cancel. I felt a sense of relief as I had begun to get quite nervous about the teaching. A week later and 2 more people had been in touch and with a stab of encouragement, we committed to going ahead with 5.
I knew that running the retreat was a must if I was to take yoga seriously as becoming my way of life. I knew it would be a challenge and I also knew that I was ready to rise to the challenge, embrace it, and have fun!
This left a couple of weeks before the retreat to plan the lessons and make sure I'd re-familiarise myself with the teaching manual from Tribe which I no longer referred to all the time.
Planning the lessons was a really interesting process. I had decided to teach 2 hours in the morning and 1hr30 in the evening (all asana, pranayama, and meditation). Initially, my nerves took over and instead of planning the lessons in a style that's developed for me over the past year, I decided to plan the lessons in the exact way I learned during the Tribe yoga teacher training course. I quickly learned over the two weeks while I was experimenting with lessons and practicing, that it was important to teach as I practiced (and taught in London). It was the best way I could translate the teachings, and it gave me confidence holding the space. The morning practice was essentially a 20 min warm up, a series of sun salutations followed by a modified primary series (we did approx 4 – 7 standing postures), a 15-minute savasana followed by 15 minutes of pranayama and 15 minutes of meditation.
The combination of what I've discovered over the past year, combined with the language and discipline I developed at Tribe left me feeling (just about) sure enough that I was doing the right thing.
The balance of effort and surrender that I've read about and heard people discuss (especially Donna Fahri) showed itself to me during the planning and running of the retreat. You can do all the planning in the world, but the universe can have ways of testing you that you never know about until it happens! During the whole process, I was kept on my toes.
The planning, study, practice, diet, and rest that I made sure I had in the leading weeks was essential if I was to feel my best while I was teaching. Just before the beginning of the retreat (4 days) one of the participants e-mailed me and casually mentioned she was pregnant. This was a great learning curve for me, as I'd sent out a health questionnaire to participants about a week before, but failed to include this crucial question!
Alarm bells rang in my head as I didn't have any prenatal training. I wondered whether it would be a better idea to cancel the retreat, rather than cater for the unknown. I didn't have a choice; everyone had paid by now and booked their flights.
I spent the next few days reading books and researching and realized that there were certain things she couldn't do, and others that would be useful. If there was ever a debate on whether a posture was suitable or not for pregnant women then I erred on the side of caution and left it out.
In the end, I modified both morning and evening practice so that the participant would be able to take part in at least 80% of both practices. For the other times, I showed her at the beginning how to set up props (bolster/blankets/blocks) for a restorative supta-baddhakonasana.
I was really lucky to have a wonderful friend to join me on the retreat to offer Reiki to all the participants. Not only was this an amazing therapy to offer, having her on the retreat (for the first 2 days) was a wonderful support to me.
After the first evening session together I modified the practice even more once I had seen everyone practice together for the first time. Despite having taught many classes before, the unfamiliar situation had an effect and I could hear the nerves in my voice at the beginning of the first session. Once I heard this, I knew how important it was for me to honor the teachings, and speak with a clear, stable and confident voice. Consecration and reminding myself that this process was not about ME, but about the yoga enabled me to hold space and allow time all of us to be welcomed into a new environment.
I was incredibly fortunate that the accommodation was beautiful and all of the food was made by Dirk. I did not enforce a vegan/veggie diet on the participants, as I knew that the food we would be eating would be wholesome, locally sourced and of a high quality. We often had a glass of wine (or two) in the evening, and it was important for me to remember that this was also a holiday for most of the participants there.
During the retreat, the group came together so beautifully. Wonderful conversations were had and the sharing of space and practice was increasingly appreciated and respected.
On Day 2 I gave a talk on the Yama's. Everyone responded to this really well and people had lots of questions and ideas about how we can practice these (and where they are lacking) in everyday life. This talk was important as it helped to set the tone and re-inforced that Yoga is not just about asana.
I also invited participants to bring along a reading (something uplifting) so that each person could read at the beginning of a session. Some people opted out and enjoyed listening, and a few bought readings along. This is something that we did every morning at the Tribe training, and it was a beautiful way to start the day, and also to allow people to show some of their personality. We were also treated to a fantastic performance by one of the participants who was a wonderful singer.
By the end of the retreat, I was glad I had stuck to a practice that was slow and steady. It allowed us to work on alignment, but it also enforced the thought I'd had that people often find slowing down the hardest part. There was a significant shift in people's approach to the practice as they realized that postures were going to be held for approx. 1min. It meant that finding and recognizing their edge was crucial, and not struggling or fighting for something that wasn't yet within their ability.
The last evening session was incredibly powerful and I saw a dramatic improvement in people's strength and flexibility. Participants looked and felt comfortable, their shoulders naturally fell from their ears and they spent a longer amount of time with their eyes closed during pranayama and meditation.
The overwhelming feeling from the whole group, including myself, was one of gratitude. There was a peacefulness that fell over us all, and an appreciation for the nature and the company we were surrounded by.
The main things that I'll think about when I next do a retreat are the following things – I hope this helps to sum everything up and can be useful if you're planning one yourself! The main thing is to remember, nothing really matters, do your best and the universe will work with you, HAVE FUN!
1) Check your insurance
2) Send out a questionnaire as soon as people commit (health/diet/yoga experience)
3) Can people pay in installments
4) Commit yourself fully but remain open to surprises and needing to change
5) Have someone else to help teach/offer a therapy – perhaps someone already familiar with giving support
6) Do you want to run everything? (food/acc/yoga) or will you work with a centre that can do that for you?
7) Keep your energy balanced so you can always be there for participants
8) Know your limits and knowledge – it's OK to say 'I don't know!'
9) Remember this is about the teachings of yoga – it's not about you