9D SESSIONS (UK)
9D Transformational Breathwork
Please note that for a limited time, all breathwork workshops will be offered at a special discounted rate to spread awareness and make this practice more accessible to more people.
SEPTEMBER, FOREST ROW, UK
VENUE: The Anderida Practice,  STUDIO: Sweet Chestnut
UPCOMING SESSIONS
Sunday 24th September 08.30 – 11.15, The Art of Letting Go 
Sunday 24th September 17.30 – 20.15, Releasing & Healing the 5 Primary  Trauma Imprints
(See below for journey info)
SPECIAL OFFER: £50 per session (normally £150)
TO BOOK: go to checkout, or contact us 

OCTOBER, CREWE, UK
VENUE: Ministry of Yoga (MOY).

UPCOMING SESSIONS
Monday 16th October 18.00 – 19.45 The Art of Letting Go 
Monday 16th October 20.00 – 21.30 Down-regulation & Integration
Tuesday 17th October  06:30 –  07:45 Shakti Emobidiment Practice (special price £15)
Tuesday 17th October 18.00 – 19.45 Releasing the 5 Primary Trauma Imprints
Tuesday 17th October 20.00 – 21.30 Stress & Anxiety Relief
(see below for journey info)

SPECIAL OFFER: £25 per session or £45 for both
TO BOOK Contact MOY

9D JOURNEY – THE ART OF LETTING GO
Who is it for? This offering is specifically designed to support individuals who are grappling with the challenge of letting go, whether it be difficult events from the past, feelings of resentment, or judgments towards themselves or others. It provides a nurturing space for those seeking to activate deeper meaning and purpose in their lives, offering an opportunity to rediscover and reconnect with their authentic selves.
Embark on this transformative 9D Breathwork journey, designed to support you in the art of letting go. This immersive experience liberates you from the grip of the past, shedding physical and psychological burdens that cause discomfort. Through forgiveness, self-love, acceptance, and resilience, key themes intertwine, propelling personal transformation. You release the weight of past traumas, experiencing emotional stability, tranquility, and restoring balance. This transformative journey is a stepping stone to ongoing growth and healing, empowering the evolution of your true self. Embrace profound liberation, enriching your life with purpose and possibility.
Common Outcomes:
Liberation from the past: Experience profound freedom as you release the grip of the past, letting go of burdens that have held you back.
Release of physical and psychological discomfort: Shed the weight of physical and psychological burdens, leading to a sense of lightness and relief.
Cultivation of forgiveness, self-love, and acceptance: Foster a compassionate and nurturing relationship with yourself and others, embracing forgiveness and acceptance as transformative forces.
Resilience and emotional stability: Develop inner strength and resilience, allowing you to navigate life's challenges with greater ease and emotional stability.
Tranquility and restored balance: Experience a deep sense of tranquility and inner equilibrium, restoring harmony in your life and relationships.
Empowered self-transformation: Embrace personal growth and empowerment as you let go and evolve, opening yourself up to new possibilities and a more fulfilling life journey.
9D JOURNEY – RELEASING THE 5 PRIMARY TRAUMA IMPRINTS
Who is it for? This journey is for anyone seeking to break free from intergenerational trauma, the root cause of all human suffering. Cut the cords of these struggles and cease the cycle of passing down traumas to future generations.
Dive into the transformative realm of this 9D Breathwork Journey for Releasing & Healing the 5 Primary Trauma Imprints—an immersive exploration dedicated to resolving the imprints of our childhood experiences. Delve deep into the healing process as we address the profound wounds of premature separation from love, rejection, abandonment, shaming, and lack of presence. These imprints, carried from our formative years, silently shape our adult lives, revealing themselves through various challenges, including victim mentality, trust and intimacy issues, co-dependency, relationship struggles, emotional dysregulation, anxiety, depression, and more.
By releasing these deeply rooted imprints, you liberate yourself from the burdens of past hurt and suffering. Prepare to embark on an extraordinary journey that untethers you from energetic bondage, paving the way for a mental health reboot of both body and mind. Expect to emerge from this experience with a profound sense of liberation, newfound clarity, and an empowered state of being. As the imprints dissolve, you embark on a transformative path toward healing, allowing you to embrace life with renewed vitality and inner strength.
9D JOURNEY – DOWN-REGULATION & REGENERATION
Who is it for? Designed for individuals new to breathwork, with contraindicating health conditions, or an overactive nervous system, this offering provides essential support in processing and integrating any potential challenges.
Embark on a gentle and transformative 9D Breathwork Journey for Integration & Regeneration. Designed for new students, this breathwork experience fosters relaxation, grounding, and wholeness. Engaging the vagus nerve and activating the parasympathetic "rest and digest" response, it guides you into profound calm. Through hypnotherapy, subliminal messages, visualization, and deliberate breathing, discover the power of breath for rejuvenation and integration. Explore harmony within your mind and body. Nurture yourself, grow, and transform.
Common Outcomes:
Deep relaxation and grounding: Experience a profound sense of relaxation, allowing you to release stress and find a grounded state of being.
Enhanced well-being and wholeness: Reconnect with your inner self and experience a sense of wholeness, bringing balance and harmony to your mind, body, and spirit.
Activation of the parasympathetic nervous system: Engage the body's natural relaxation response, promoting calmness, tranquility, and restorative healing.
Integration of mind and body: Explore the power of breathwork to integrate your thoughts, emotions, and physical sensations, fostering a sense of unity and coherence.
Rejuvenation and renewal: Tap into the transformative potential of deliberate breathing techniques, rejuvenating your energy and revitalizing your entire being.
Self-discovery and personal growth: Journey within to discover new insights, access inner wisdom, and experience personal growth as you navigate the path of integration and regeneration.
9D JOURNEY  STRESS & ANXIETY RELIEF
Who is it for? This experience is perfectly tailored for those struggling with stress and anxiety. It's an optimal first-time journey for individuals with contraindications or for those looking to integrate after a more intensive somatic journey. This offers a gentle escape from anxiety, introducing tranquility and balance. By partaking, participants can ease into the realm of breathwork, fostering a restful connection with their inner calm.
Journey Summary: Strap in and prepare for the Stress Relief Sojourn, a targeted breathwork experience meticulously crafted to guide you toward serene tranquility. This journey navigates you through the rough waters of anxiety, liberating you from the tight grip of day-to-day tensions. Incorporating deep belly breathing, coherent breathing, box breathing, and the 4:2:6 method, it blends a harmonious rhythm of relaxation techniques. And for a hint of invigoration, the infinity breathing technique provides a subtle activation, allowing you to gently explore the sensation of energizing your system. Centered around the themes of calm, centeredness, clarity, and serenity, this expedition fosters a profound personal retreat. You'll shed the weight of accumulated stress, making way for mental clarity, peaceful repose, and rejuvenated balance. This soothing voyage serves as a foundation for continued mental wellness and resilience, bolstering the revelation of your calmest self. Embrace the embrace of quietude, enhancing your life with a renewed sense of peace and boundless tranquility.
Common Outcomes:
Relief from Overwhelm: Experience a profound calmness as you distance yourself from the pressures of daily life, alleviating the stressors that have kept you on edge.
Release of Mental Tensions: Dissolve both mental and physical anxieties, ushering in a wave of relief and restful ease.
Cultivation of Calm, Clarity, and Serenity: Develop a peaceful and clear relationship with yourself and your surroundings, utilizing moments of tranquility as stepping stones towards a serene existence.
Stability and Mental Poise: Nurture an inner composure and mental steadiness, preparing you to navigate life's challenges with clarity and balance.
Tranquility and Restored Balance: Immerse yourself in a deep sense of peace and well-being, establishing equilibrium in both mind and spirit.
Revitalized Sense of Peace: Welcome a renewed sense of inner calm and relaxation, setting the stage for a life filled with ease and harmonious existence.
SHAKTI EMBODIMENT PRACTICE with Scarlett: Embrace Your Divine Feminine Essence 
This practice is designed by Scarlett and is not a part of the 9D journey series. Rather it is a combination of movement and the same kind of transformational breathwork that is practiced in the 9D sessions
This transformative breathwork experience invites you to return to your inherent birthright as a woman. In this session, we seek to reconnect with the graceful flow, the elegant power, and the enchanting essence that defines your true self.
What to expect: We will be stepping into a space of nurturing self-discovery through gentle postures and the magic of breathwork. This experience is designed to guide you in releasing all that no longer serves you, making way for a powerful rebirth – a reawakening to the goddess within.
Embrace Grace and Flow: Unveil the grace and flow that are your natural gifts. Let go of anything holding you back and harness the energy of your own divine rhythm. This journey is about rediscovering the elegance that resides deep within your spirit.
Reclaim Your Power: Empowerment is your birthright. Through intentional breathwork and movement, you'll release stagnant energy and emerge with a renewed sense of strength. It's time to embrace your authentic power as the goddess you are.
Experience the Transformation: This breathwork experience isn't just a practice; it's an embodiment of your sacred essence. Let's breathe together, move together, and evolve together. This is your invitation to honor yourself and reclaim the beauty of being a woman.
 Don't miss this opportunity to reconnect with your divine feminine energy. Reserve your spot now and embrace the journey of rediscovery.
HOW TO BOOK


Step 2
Add Option to Cart & Pay

Step 3
Complete Application Form
Teachers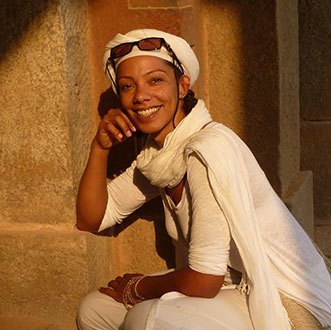 Scarlett Dee
Yoga/Tantra Teacher, Breathwork Coach, Sound Healer, Spiritual Life Coach