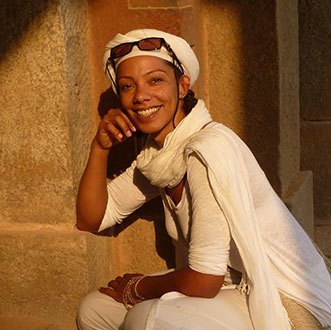 Scarlett Mehigan
Senior Teacher & Facilitator

---
Born in UK, in 1972 to Jamaican and Irish parents nowadays Scarlett spends her time living in Europe during the summer and teaching or studying in Asia during the winter.
Scarlett has been a yoga practitioner for more than 25 years and sharing her experience of yoga in many of its various forms with students for over 20 years. Her teaching style for asana originates from her years of study and training in many different styles including Ashtanga and Dynamic yoga and Tantra yoga. Through simple and clear instructions Scarlett offers a practical, light-hearted, fun, creative, and spontaneous approach to yoga suited to both beginners and more advanced students.
One of her main sources of inspiration comes from Godfrey Devereux who devised the dynamic yoga method and with whom she spent time studying as his apprentice and trained as a teacher in 2002-4.
In 2005 Scarlett also studied intensively with Larry Schultz at 'Itsyoga' in San Francisco where she trained as an ashtanga vinyasa yoga teacher and also learnt to 'fly' training in his 'Rocket' series which focuses on arm balancing postures and strongly influences her self-practice and teaching to her more advanced students.
Another of Scarlett's important influences comes from Agama Yoga. In 1998 Scarlett was in Rishikesh and completed the Level 1 month long intensive with Swarmi Vivekananda, the spiritual leader of the Agama yoga school. The course offered her a rich source of ancient and modern disciplines which gave her a deeper connection and understanding of the subtle bodies, subtle energies and the different levels of consciousness fundamental to our existence and evolution. Since that time she has returned to the agama teachings and studied Levels 2 and 3. In 2011 she completed the Agama 500hr TTC and in 2014 the Agama Tantra Instructor Training.
Teaching different styles of hatha yoga Scarlett's main focus is to guide students towards having the confidence and understanding to develop a self-practice and to personally experience the transformative power of yoga. Her emphasis in her teaching is 'its not what you do but how you do it!' encouraging students to journey inward and explore the possibility of cultivating awareness, sensitivity and concentration of the mind, creating openings for self-development and empowering students by reconnecting them to their own inner wisdom and divinity.
Scarlett very passionately believes that Tantra has a major role to play in our lives.
"Tantra is the path that enables us to cultivate a sacred relationship with oneself, others, our life and existence itself. Specifically relevant to the time that we live in Tantra teachings offer us the possibility to radically evolve on many levels".
As well as teaching yoga Scarlett complements her understanding of the body, mind and spirit as an accomplished and skilful massage therapist. Trained in 8 different styles of massage she has developed her own unique style of deep tissue remedial massage which honours the individual needs of the person she is treating to create therapeutic and deeply relaxing results.
"At the age of 20 frazzled by my circumstances and the age-long question 'what should I do with my life?' I headed out to Asia. Through my travels encountering different people and places, it became transparent that I was at my happiest either deep in the heart of nature or in a place of worship. So I travelled exhaustively through Asia and most extensively through India which I had a special affinity for feeling it to be a country deeply rooted in spiritual practices throughout the whole of its society with a legacy of thousands of years great teachings and teachers.
I delved in and out of different yoga, meditation and spiritual practices for a number of turbulent years never really satisfied until I met a teacher of great significance to my life …Godfrey Devereux. With great clarity, he shared his understanding of Ashtanga-the eightfold path and the teachings of Advaita with me. I enthusiastically spent time as his apprentice and completed a teacher training which gave me an in-depth understanding and experience of yoga. Under guidance, I began to grasp the fundamentals of the practice of asana, which led to realisations on and off the mat. Through a deepening appreciation and practice of meditation and asana, study of the Patanjalis sutras and the absorption of the teachings of Advaita, life began to make sense and I relaxed more and more into the 'Flow'. This was life-changing stuff! Yoga became an arena of discovery and exploration into my true nature and ultimately into the nature of life itself. On the mat, concepts became experienced realities and the fuzziness of daily existence began to clear as my various practices offered deepening transformations in my emotional, physical and mental being.
Like any great joy in life I hope that the precious jewel of yoga can be experienced and shared all over the world. I would love to see people live through the yoga teachings to explore their true nature and realise their full potential. It would be great if all of us that have been touched by yoga can find ourselves journeying inward with awareness, good intentions and a connection to our inner wisdom to enrich our own, and the lives of people all around us, with relaxation, peace, joy, smiles, laughter and love. Most of all I would like yoga aspirants to rediscover yoga as a spiritual path in a relaxed, easy going and nourishing atmosphere, learning through the integral teachings that have been graciously left to us by the great yogis, saints and spiritual master of our past."
For Scarlett teaching & practice have been fundamental in guiding her towards a holistic and yogic lifestyle. Rather than just teaching yoga asana Scarlett teaches the Art of Conscious Living, which includes practices such as self-healing & healing others, conscious eating, natural living, sacred relationships, sound therapy, creative arts and the simplicity of loving and living ones truth".