Experienced Yogis THAILAND (Residential)
This is a retreat for dedicated practitioners with a passion and thirst to become more awake, more conscious, more present. Where it's not about learning more, achieving more, gaining more. Rather, it's about letting go, surrendering and releasing to experience the freedom and truth of our nature.
Where practitioners inspire and support each other and the practices, intensive and challenging, lead us into a richer and deeper experience of who we already are.
If you've studied spiritual text and done the practice you've probably already decided that the direction you need to move in is inward and periods of stillness and silence, times of purification and cleansing can support that movement back to Essence. 
On retreat, we commit to a period of self-inquiry and unplug from the external world and cultivate inner stillness and silence.
This includes:
No computers or mobile 

Mouna at the specified times. 

Continuous mouna during the 3 days water fast

Following the fasting plan

Completing a personal tapas.
COST : Sharing = €225, Single = €375**Includes:
Accommodation

3 days of liquid nutrition,

3 days fasting (water, detox tea or coconut water)

1 healthy dinner
**Considering the intensity of the retreat we recommend booking single accommodation so you have your own space to digest the experience and relax in your own space
A few words from Scarlett
The 7 Day Process is an invitation to switch off from the external world and direct one's focus and attention internally. A time to unplug and tune in without any distractions or external demands.I would say there is no question that the best time and place to practice is on one's own and in one's own space. But being on retreat with other seasoned practitioners can be very profound and powerful. I have experienced such many times, as I am sure you have also. In a group we are able to support and inspire each other. Sharing space and energy together can be very magical.
If you are a seasoned practitioner or teacher experienced in fasting, silence, and practices that nurture transformation of the mind then the '7 DAY PROCESS' is for you. You are welcome to join if you possess the level of spiritual maturity, physical endurance, and mental strength required for such intensive inner work.
Next dates to be announced
1 Week
---
Package includes:
Accommodation
Fasting Plan
Max. No. of Students
20
Schedule
06.30 – 08.30: Assisted Self-Practice
08.30 – 10.30: Led Pranayama, Bandha & Meditation Practice
10.30 – 11.30: 'Breakfast' as per fasting schedule)
11.30 – 12.15: Sitting with a Master – Audio from masters such as Osho, Alan Watts, Krishna Murti, etc
12.15 – 13.00: Yoga Nidra
13.00 – 14-00: 'Lunch as per fasting schedule
14.00 – 14.00: Personal tapas time, Diary writing & Self Study
16.00 – 18.00 Led class (dynamic flow to back-bending sequence to restorative to meditation) or self-practice
18.00 – 19.00 Quantum Light Breath
19.00 – 19.30 Group Sharing Circle
19.30 – 20.00 'Dinner' as per fasting schedule
20.15 – 21.15 Meditation
21.30 – Beddy Byes!
Teachers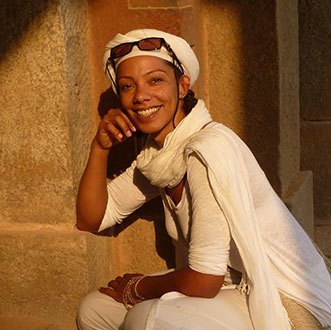 Scarlett Dee
Tribe YTT Senior Teacher & Facilitator
Venue & Accomodation
Kaomai Lanna is situated in the North of Thailand approx. 25km from Chiang Mai with minimum distractions. As well as being a beautiful and peaceful venue for the Tribe yoga teacher training Thailand course Kaomai Lanna has some great facilities including swimming pool, spa and wellness centre, room service & free wireless.
Kaomai Lanna is a special place where teachers and students always appreciate, love their time living and studying at this venue.
Accommodation
Check-in Jan 19th & Check-out 25th
Check-in Jan 26th & Check-out 1st Feb
All accommodation included is stylish and comfortable with air conditioning, shower, hot & cold water, hairdryer & teak furniture.
You can upgrade to Deluxe features antique furniture and fittings, bathroom with tub and shower, stylish teak platform Asian style beds and is situated on the upper-level floors of the unique barn conversions.
Please contact us for prices details
For those who wish to invest in a super-luxury stay Kaomai Lanna also have butterfly room – or the brick room.
Price on request
Extra nights staying in Chiang Mai
Cheap accommodation (from 5 euros per night) is easy to find in Chiang Mai town centre.
We provide a free minibus transfer from Chiang Mai to Kaomai Lanna on the start day of the training
Getting There
The venue is 25km from the Chiang Mai Airport and approximately 45-60 minutes by taxi.
International flight direct to Chiang Mai Airport or fly to Bangkok and take a domestic flight to Chiang Mai (1 hour). Train or Bus from Bangkok takes approximately 12 hours.
We will help organise shared taxis where possible
Meals
FASTING PLAN 
Sun Dinner: light vegetarian meal
Mon / Tues / Sat: Liquid Nutrition at all mealtimes (green blended drink of veggies & rice)
Weds / Thurs / Fri. Choice of water fast, cleansing tea fast or cocoanut fast
Sun Breakfast: Light Breakfast
If you wish to opt-out of the fasting plan you can order and pay for meals in the venue restaurant
Travel info
Visa: 30 days visa on arrival for most nationalities.
If you wish to spend longer in Thailand you will need to apply for 2 months tourist visa or you can apply for a visa extension whilst in Thailand. Please check with the Thai Embassy in your country for more details.
Spa treatments
As part of the student support program on the yoga teacher training Thailand course you receive a complimentary traditional Thai massage.
Throughout the training book therapies and treatments at affordable prices in the venue Spa. So you can enjoy pampering yourself on a regular basis at special student discount prices:
60 minutes Thai Traditional Massage
60 minutes Aromatherapy Massage
60 minutes Herbal Compress
60 minutes Swedish massage
60 minutes Foot bath and reflexology massage
45 minutes Body Scrub
45 minutes Green secret face treatment